Solar Panel Cleaning in Yeovil, Ilchester and East Coker
Released On 2nd Apr 2018
Last week was a busy week for our Solar Panel cleaning team and they cleaned many Solar Panels on properties in Yeovil, Ilchester and East Coker.
Below we have outlined why enlisting Trade Solutions (Yeovil) Ltd for cleaning your Solar Panels on a regular basis makes perfect sense.
Why you should clean your Solar panels
Due to the exposed state of Solar panels, they are subject to the build up of dirt, soil and pollution desposited by wind and rain. This dirt adds a film on the outside of the solar panels, drastically reducing the amount of sunlight the panels can absorb. This inefficiency therefore has the effect of reducing the amount of profit they return to you throughout the year.
Furthermore and in many circumstances, Solar Panel Cleaning is also a necessary part of the system maintenance advised by the manufacturers to maintain their warranty. A regular cleaning programme will maximise your system's potential as well as protect your valuable investment. Most manufacturers recommend the cleaning of your Solar Panels every 6 months. We encourage you to examine your personal system guarantee for further information.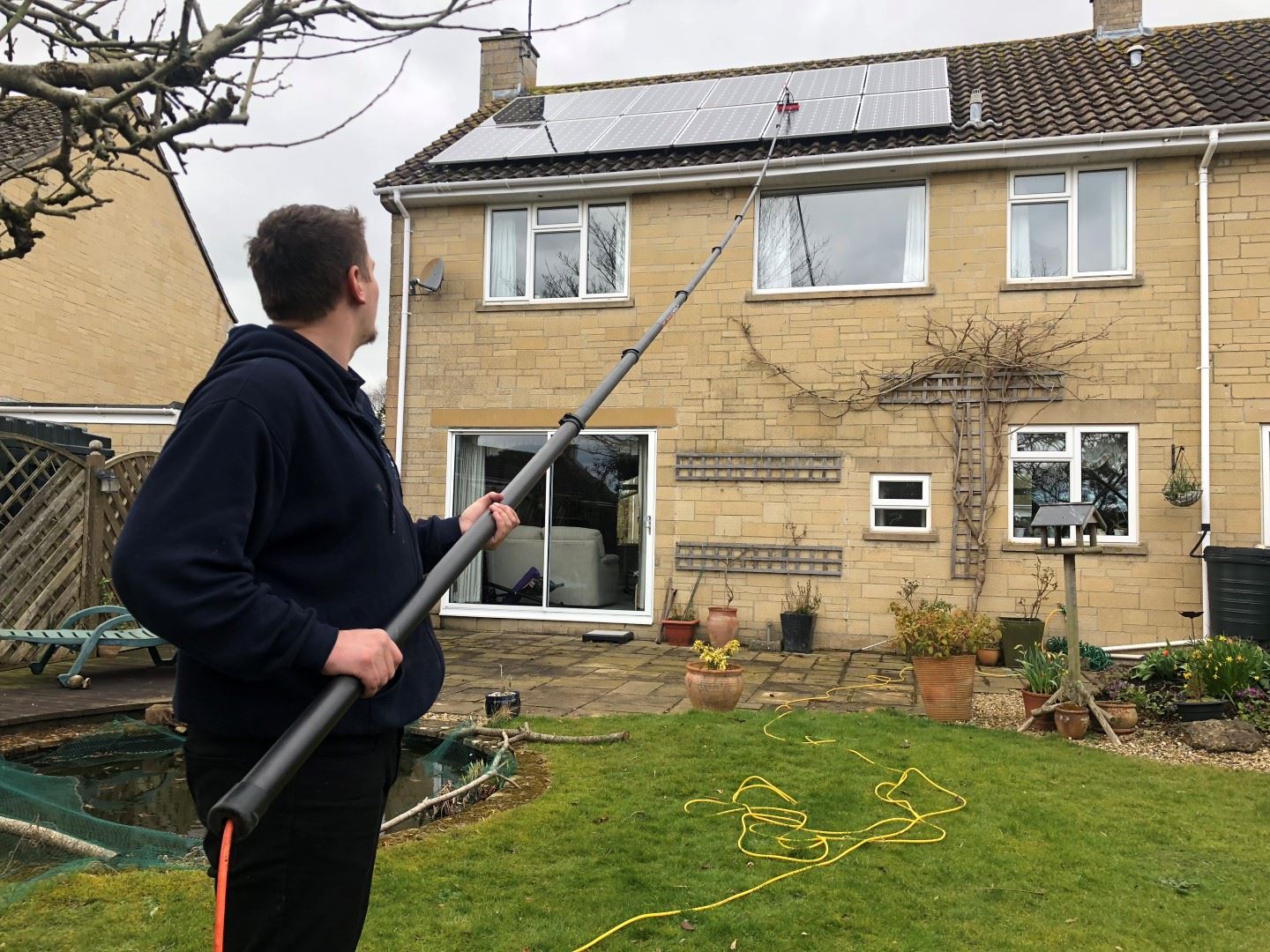 How much electricity do dirty panels lose?
While many factors impact solar power production in solr panels, experts agree that you will lose power. That loss may range as high as 25% in some areas according to the National Renewable Energy Laboratory (NREL). Individual dealers have reported losses as high as 30% for some customers who failed to ever have their panels cleaned.
How much will it cost to have my Solar Panels cleaned by Trade Solutions (yeovil) Ltd?
Cleaning the panels can cost from as little as £40.00 + VAT but is dependent on four simple factors:-
Accessibility - How difficult is it to access your Solar Panels?
Current Condition - How dirty are your Solar Panels right now?
How many panels are there?
Frrequency - How often would you like your Solar Panels cleaned?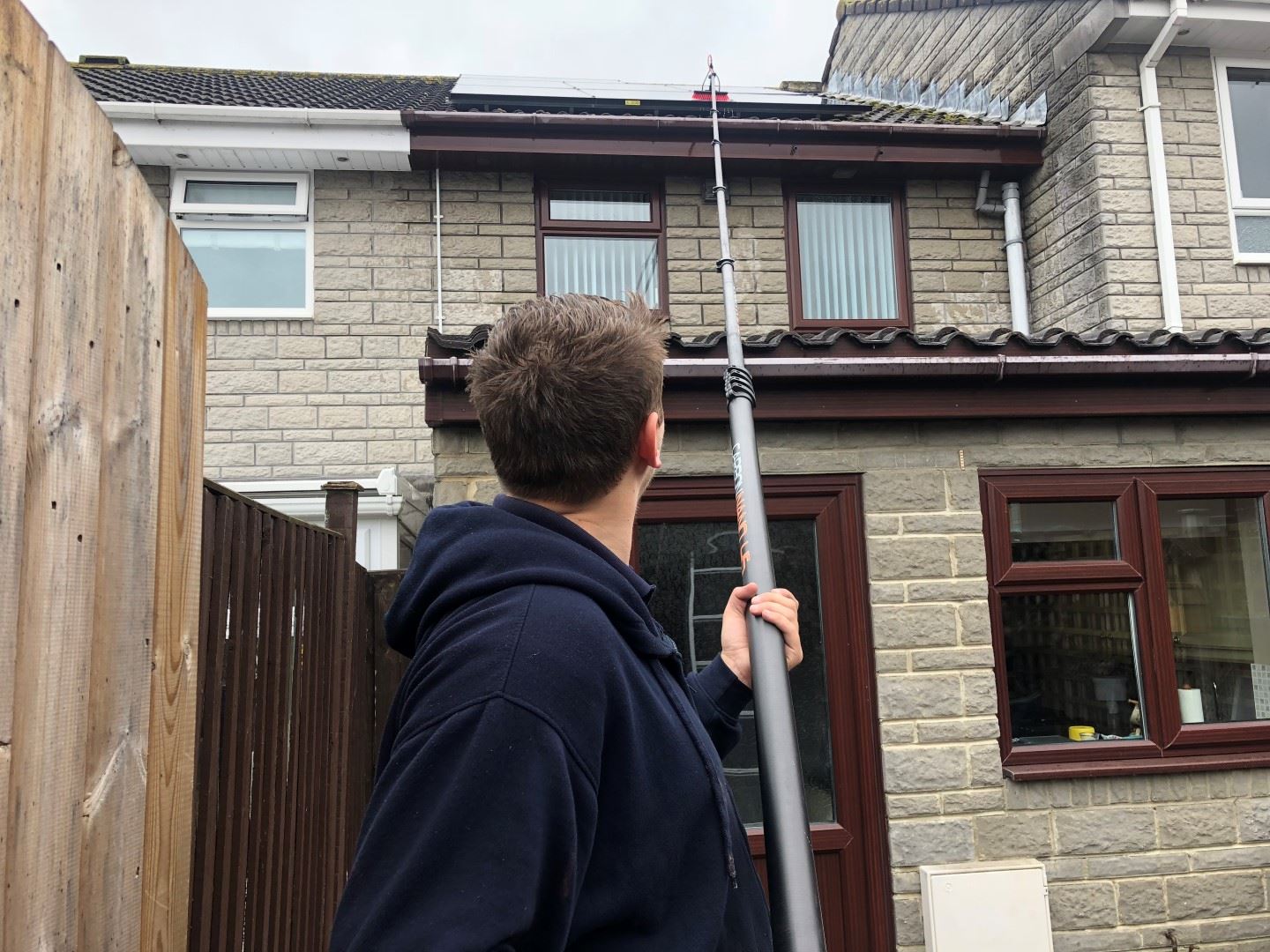 How will my Solar Panels be cleaned?
We have invested heavily in the latest cleaning technology which is ideal for cleaning Solar Panels. This cleaning technology uses pure water incorporating telescopic carbon poles. Typically, the pole we use for this job cost us in the region of £1300 but allows us to carry out the clean safely from the ground and in most cases, without the need for additional costly access equipment. The pure water used has had all of the flouride, calcium, chlorine and other minerals filtered away so it cannot leave any reside on the panels. In fact, it is the same water that our Yeovil based window cleaning team use which delivers excellent results day in day out.
Summary of benefits
Increase of solar light absorbtion time therefore an increase in efficiency
Regular cleaning by us will help the "burning in" of dirt to your costly panels
Our system allows for a relatively quick and easy approach to the cleaning of the panels and frames without stripes of residue
Our system cleans with pure water and without chemicals - high cleaning effectiveness using special brush heads and therefore no damage to the panels
Safe and reliable cleaning without the need for ladders or scaffolding
Results are immediate
30% increase of solar yields have been reported
The smallest of solar increase will cover the cleaning cost
Hopefully you have found this blog useful. To book your free site survey and quotation, fill out the contact form which can be found here and a member of the team will be in touch shortly.